Comprehensive Room-By-Room Cleaning Checklist for Airbnb Hosts

PDF Version: Extremely Comprehensive Airbnb Cleaning Checklist

Kitchen
Remove everything from counters and sanitize.
Inspect pots, pans, utensils for cleanliness.
Ensure all appliances are fully functional and clean.
Check cabinets for crumbs, and wipe interiors.
Clean stove knobs, dials, burners, underside
Remove oven racks and wash every inch inside.
Scour microwave inside and outside
Pull out the refrigerator, and vacuum back and underneath.
Remove bins, and wash the interior with disinfectant.
Wash the exterior of the refrigerator, handles, and coils.
Wash cabinets inside and out, doors, hinges
Scrub sink, faucet, and pipe until gleaming
Remove the drain stopper and pipe, and disinfect.
Scrub floor grout, and degrease stains.
Sweep then mop the floor in the figure-8 motion.
Clean dishwasher inside, outside, door
Windex windows and sills, clean screens
Sharpen knives and verify cutting boards are good.
Check basic ingredients stocked.
Shine and disinfect all fixtures.
Dust ceiling fans, light fixtures, vents
Bathrooms
Mix disinfectant, scrub floors, baseboards, corners
Scour sink, faucets, counters, mirrors
Clean toilet tank, bowl, lid, seat with pumice stone
Remove the seat, and scrub the underside, hinges, and bolts.
Use a wire brush to remove hair in drains.
Remove the showerhead, and soak it in a vinegar solution.
Scrub shower walls, doors, tracks
Wash shower curtain or glass door
Dust vents, fixtures, sills, cabinets
Wash towels, mats, and robes in hot water with bleach
Empty trash cans, replace bags, disinfect bins.
Restock toilet paper, tissues, soaps, cotton swabs
Clean the fan grill, and heat lamps, and wipe down walls.
Verify plunger, and toilet brush clean.
Ensure personal care appliances are functional.
Shine and disinfect all fixtures.
Sweep and mop the floor after cleaning is done.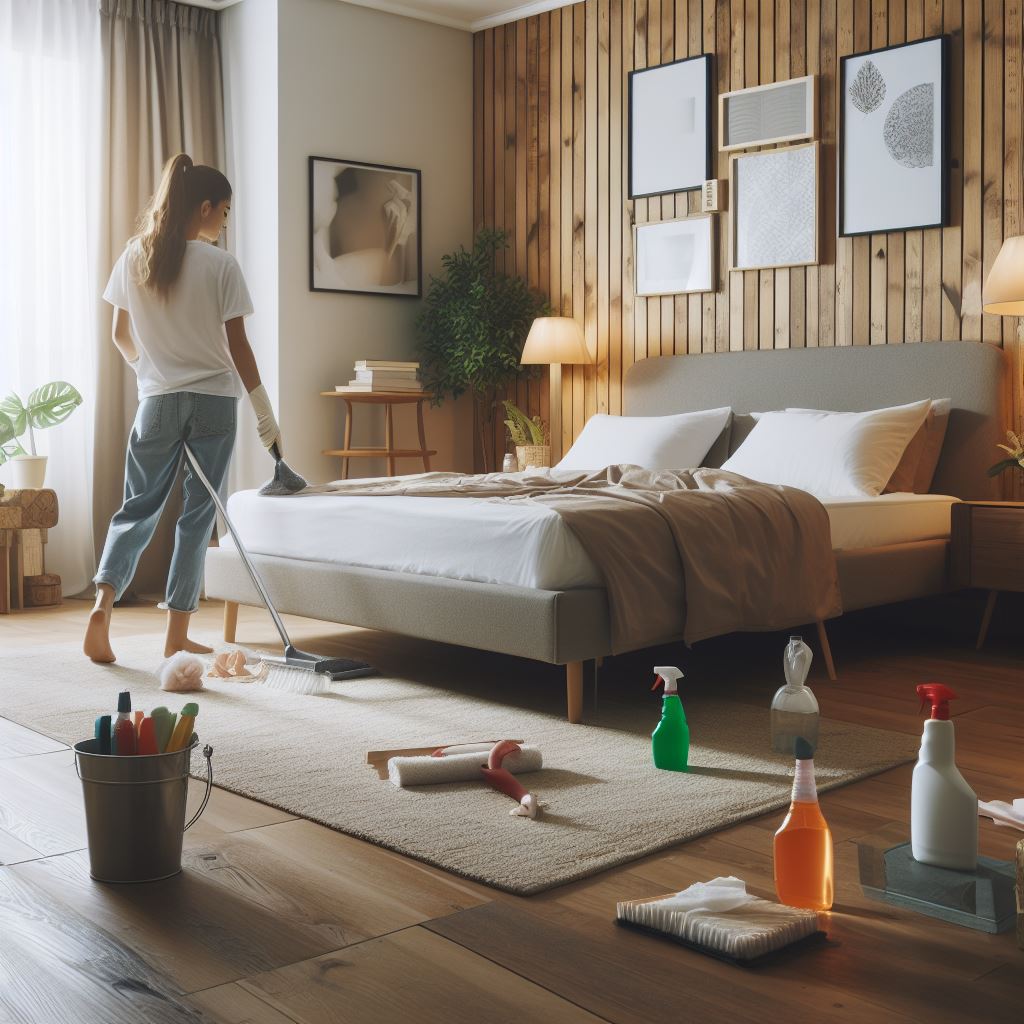 Bedrooms
Strip linens including mattress pads, and wash covers.
Wash sheets, duvets, and blankets on the sanitize cycle.
Fluff and reshape pillows after washing.
Disinfect and dust ceiling fans, and vacuum blades.
Disinfect handles, switches, remotes, TV remote.
Vacuum under beds, furniture, and baseboards for pests
Shake curtains, and wipe rods and blinds for damage.
Clean closet items; organize accessible storage.
Check under mattresses and furniture, and vacuum.
Inspect for bed bugs, and mop hard floors.
Shampoo carpets, and allow full drying.
Make beds with linens, and pillows neatly.
Update local guides and ensure devices are functional.
Dust bookshelves, TV units, wardrobes, mirrors
Windex windows and screens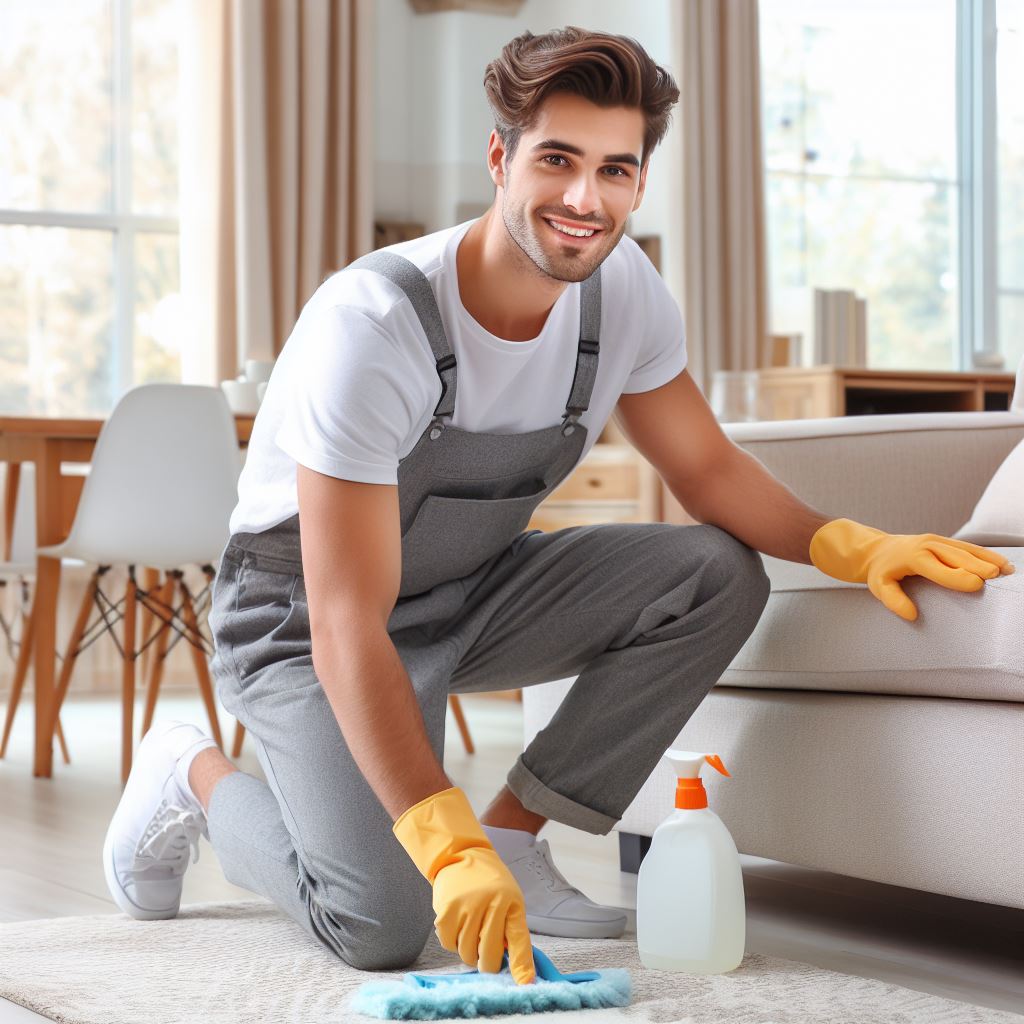 Living Spaces
Fluff and steam clean cushions, and disinfect.
Vacuum under and behind all furniture
Disinfect handles, switches, and electronics.
Dust furniture, lamps, shelves, electronics
Vacuum then mop floors with disinfectant.
Shampoo carpets, spot clean stains
Wash throws, blankets, and covers in hot water.
Dust window frames, glass doors, screens
Arrange decor neatly, and dust thoroughly.
Test electronics functionality
Organize bookshelves and media neatly.
Disinfect and dust fans and fixtures.
Outdoor Areas
Sweep porches, patio, deck, steps, walkways.
Clean exterior lights and ceilings for cobwebs
Wash outdoor furniture cushions, and steam clean.
Hose down outdoor kitchen/grill, scrub, disinfect.
Wipe down railings, doors, gates, exterior walls.
Clean pool tiles, vacuum, balance chemicals
Backwash filter, scrub waterline, clean salt cell
Power wash windows, doors, screens
Blow driveway, sweep garage, edge walkways.
Trim bushes and trees away from the property
Clean gutters and downspouts
Check the condition of recreational equipment.
Ensure outdoor lighting is fully functional.
Final Touches
Take out all trash recycle, and replace bags.
Replenish all soaps, paper, coffee, amenities.
Make beds beautifully with linens neatly arranged.
Confirm all light bulbs are working
Ensure all info and manuals are set out clearly.
Final meticulous property walk-through
Leave a thank you note and a small gift for guests.
Think from the guest's perspective, what is it like for them?
Imagine you are a guest who just arrived at an Airbnb property after a long and tiring journey. You open the door and enter the property, expecting to find a clean and comfortable place to relax and enjoy your stay. But instead, you are greeted by a mess of dirt, dust, stains, odors, and clutter. How would you feel? Disappointed? Angry? Disgusted? Would you want to stay there or leave immediately? Would you leave a positive or negative review? Would you book again or look for another option?
Now imagine you are an Airbnb host who wants to provide a positive and memorable guest experience. You know that cleaning your property is one of the most important aspects of hosting, as it affects your reputation, ratings, and revenue. You want to make sure that your property is spotless and well-stocked for every guest, and that you comply with Airbnb's cleaning standards and protocols. But how do you do that? How do you ensure that you don't miss any cleaning tasks, that you use the right products and tools, and that you optimize your cleaning process?
That's where this article comes in. In this article, we will provide you with an extremely detailed and specific checklist that covers all the cleaning tasks for Airbnb properties, as well as tips and tricks on how to perform them efficiently and effectively. This checklist will help you create a clean and cozy environment for your guests, and make them feel welcome and satisfied. It will also help you avoid any complaints, disputes, or penalties from Airbnb or your guests. Whether you are a new or experienced host, a property manager, or a cleaner, this checklist will be your ultimate guide to cleaning your Airbnb property.
Why A Meticulous Cleaning Checklist Is Essential
Earns 5-star ratings and glowing reviews.
Assures guests of complete disinfection
Provides full confidence in cleanliness.
Gives total peace of mind on what is cleaned.
Maximizes efficiency for considerable time savings.
Identifies issues early like mold, pests, or maintenance.
Ensures a comfortable, memorable stay.
Why Cleaning Your Airbnb Property Is Important
Before we dive into the checklist, let's first understand why cleaning your Airbnb property is important. Here are some of the benefits of having a clean and well-stocked Airbnb property:
It attracts and retains guests. A clean and well-stocked property is one of the main factors that guests consider when choosing and booking an Airbnb property. According to a survey by Airbnb, 96% of guests expect their Airbnb property to be as clean as a hotel, and 88% of guests are more likely to book a property with a higher cleaning fee if it means a higher standard of cleanliness. A clean and well-stocked property also increases the chances of getting positive reviews, referrals, and repeat bookings from your guests, which in turn boosts your reputation, ratings, and revenue.
It complies with Airbnb's cleaning standards and protocols. Airbnb has set a high standard of cleanliness for its hosts, especially in light of the COVID-19 pandemic. Airbnb has launched the Enhanced Cleaning Initiative, which is a set of guidelines and best practices for hosts to follow to ensure a safe and sanitary environment for their guests. Airbnb also requires hosts to complete a Cleaning Protocol Checklist, which is a list of cleaning tasks that hosts must perform before and after each guest's stay. By following Airbnb's cleaning standards and protocols, you can avoid any complaints, disputes, or penalties from Airbnb or your guests, and also protect yourself and your guests from any health risks.
It gives you peace of mind. Cleaning your Airbnb property can be a stressful and time-consuming task, especially if you have multiple properties or frequent bookings. By having a detailed and specific checklist, you can simplify and streamline your cleaning process, and ensure that you don't miss any cleaning tasks. You can also delegate or outsource your cleaning tasks to a professional cleaner or a cleaning service, and use automation tools to manage your cleaning schedule and inventory. By doing so, you can save time, money, and energy, and focus on other aspects of your hosting business. You can also have peace of mind knowing that your property is clean and ready for your guests and that you are providing a positive and memorable guest experience.
This all can be a lot of work. Would you like us to help you earn passive income from your property? Check our Airbnb Management option.
As you can see, cleaning your Airbnb property is not only a necessity but also an opportunity. By having a clean and well-stocked property, you can create a competitive advantage, increase your guest satisfaction, and grow your hosting business. In the next section, we will show you how to prepare for cleaning your Airbnb property.
How to Prepare for Cleaning Your Airbnb Property
Before you start cleaning your Airbnb property, you need to do some preparation work. This will help you plan and organize your cleaning process, and ensure that you have everything you need to complete the cleaning tasks. Here are some steps to prepare for cleaning your Airbnb property:
Schedule the cleaning time. The first step is to schedule the cleaning time, which is the time between the check-out of the previous guest and the check-in of the next guest. This is also known as the turnover time. You need to make sure that you have enough time to clean your property thoroughly and properly, and that you don't interfere with your guests' arrival or departure. Ideally, you should have at least 4 hours of cleaning time, but this may vary depending on the size and condition of your property, the number and frequency of your bookings, and your personal preferences. You can use a calendar app or a booking management tool to keep track of your cleaning schedule and avoid any conflicts or overlaps.
Gather the necessary supplies and tools. The next step is to gather the necessary supplies and tools for cleaning your property. These include cleaning products, such as detergents, disinfectants, sanitizers, cleaners, wipes, sprays, etc.; cleaning tools, such as vacuum cleaners, mops, brooms, brushes, sponges, cloths, gloves, masks, etc.; and cleaning equipment, such as trash bags, buckets, bins, baskets, etc. You also need to have enough supplies of consumables, such as toilet paper, paper towels, tissues, soap, shampoo, conditioner, lotion, etc.; and linens, such as bedding, towels, pillows, blankets, etc. You can use a checklist or an inventory management tool to keep track of your supplies and tools and make sure that you have enough stock and that they are in good condition. You can also use a shopping list or an online delivery service to order or replenish your supplies and tools as needed.
Check the inventory and condition of the property. The final step is to check the inventory and condition of the property before you start cleaning. This means checking for any damages, defects, malfunctions, or missing items in your property, such as furniture, appliances, electronics, fixtures, amenities, etc. You also need to check for any belongings or trash left behind by the previous guests and remove them from the property. You can use a checklist or a property inspection tool to keep track of your inventory and condition and report or fix any issues as soon as possible. You can also use a feedback form or a communication tool to communicate with your guests and ask them to report any problems or concerns they may have during their stay.
Getting Fully Equipped
Microfiber cloths, rags, dusters, scrub brushes
Rubber gloves, face masks, goggles
Broom, dustpan, mop, vacuum, steam cleaner
Spray bottles, all-purpose cleaner, window cleaner
Disinfectants, degreasers, tile scrubbers
Appliance cleaner, oven cleaner, grout brush
Toilet brush, plunger, pumice stone
Ladder, headlamp, basic repair tools
PDF Version: Extremely Comprehensive Airbnb Cleaning Checklist
Interesting Links