I'm packing for my Melbourne holiday and I'm stumped. What's essential, what's not? It's a hassle we've all faced. That's why I'm sharing my ultimate packing list with you.
From understanding Melbourne's climate to choosing the right gadgets, this guide will help make your trip unforgettable.
So let's cut the stress and start packing smart!
Summary list of the essential items mentioned in the article
Casual wear: Pack versatile and comfortable clothing for everyday activities.
Swimwear: Essential for enjoying Melbourne's fantastic coastlines.
Lightweight jacket: Useful year-round for cooler evenings.
Hats: Provide crucial sun protection, especially in summer.
Sunscreen: Protect your skin from the intense Melbourne sun.
Layers: Necessary for adapting to Melbourne's variable weather conditions.
Warm coats, scarves, gloves: Keep you cozy during the winter months.
Medium-weight clothing: Can be layered easily for spring and autumn.
Comfortable shoes: Choose appropriate footwear for each season and activity.
Universal adapter: Ensure your electronics stay charged at all times.
Noise-cancelling headphones: Make flights and commuting more peaceful.
External battery pack and travel charger: Keep your mobile devices powered up on the go.
Reusable water bottle: Stay hydrated without adding to plastic waste.
Collapsible selfie stick/tripod: Capture great photos during your trip.
Passport, visa, ID: Essential travel documents that should be kept safe.
Digital copies of documents: Have backups in case of loss or theft.
Local currency and cards: Withdraw cash and use cards for larger transactions.
Backup debit/credit card: Provide a safety net in case of card issues.
Prescription medications: Keep them in your carry-on bag for easy access.
Basic first-aid items: Bandages, pain relief, and other essentials for emergencies.
Extra eyeglasses/contacts: Pack spares in case of loss or damage.
Jet lag tips: Sleep, stay hydrated, and engage in light exercise to combat jet lag.
Travel insurance: Protect yourself against unexpected expenses or emergencies.
Packing cubes/folders: Keep your suitcase organized and save space.
Collapsible day bag: Carry essentials for outings and shopping trips.
TSA-approved locks: Secure your luggage during travel.
Minimize liquids: Adhere to carry-on restrictions by packing smaller amounts of liquids.
Umbrella, jacket: Prepare for unpredictable weather at Queen Victoria Market.
Camera: Capture memories at the National Gallery of Victoria.
Comfortable shoes: Enjoy shopping on Chapel Street with comfortable footwear.
Diapers, toys: Essential items for traveling with kids and babies.
Breathable fabrics, shoe comfort: Considerations for plus-size travelers.
Business and formal attire: Pack appropriate clothes for professional or upscale events.
Introduction
As someone who's had the pleasure of exploring Melbourne, I can attest to its status as a sought-after global destination.
The city's vibrant culture, stunning architecture, and diverse food scene make it a must-visit spot on any travel enthusiast's map.
However, to truly enjoy all that Melbourne has to offer, strategic packing is key – it's not just about what you bring, but how you pack it that can shape your experience in this wonderful city.
Brief background on Melbourne as a popular global destination
You're about to discover why Melbourne is a top-notch global destination loved by many.
With an array of accommodation options, from the best apartments in Melbourne City to Airbnb listings and pet-friendly accommodations, there's something for everyone.
If you're planning a group vacation, consider our short stay apartments or holiday house rentals in Melbourne. We even offer family-friendly accommodation in the heart of Melbourne city, perfect for those travelling with little ones.
Looking for luxury? Check out our holiday apartments on Southbank offering stunning views of the city skyline.
So whether it's a quick getaway or an extended vacation, pack your bags and get ready to explore all that Melbourne has to offer!
Overview on the value of strategic packing to maximise enjoyment on a Melbourne trip
Strategic packing can really maximize your enjoyment on a trip to Melbourne. When planning a trip to Australia, it's crucial to be aware of the items you'll need.
My personal experience shows that the right travel essentials can make all the difference between a comfortable and chaotic journey. Having a packing list handy simplifies this process.
A suitable packing checklist should include clothes appropriate for Melbourne's weather, essential toiletries, tech gear, and important travel documents. If you're lucky enough to secure a fully furnished apartment for rent in Melbourne, this might reduce your packing load somewhat!
Trust me, careful attention to these details during my trip to Australia greatly enhanced my visit.
So if you're preparing for an unforgettable Australia trip, remember – strategic packing is key!
Understanding Melbourne's Climate Patterns
As someone who's experienced Melbourne's diverse climate, I can tell you that the city's variable seasonal temperatures and precipitation will significantly influence your packing choices.
From sizzling summer highs to winter chills, understanding Melbourne's weather patterns is key to preparing for your trip.
Moreover, it's important to consider typical humidity levels in different seasons as they can affect not only what you pack but also how those clothes should be maintained during your stay.
Description of Melbourne's variable seasonal temperatures and precipitation
In planning for your Melbourne trip, it's crucial to remember that the city experiences variable seasonal temperatures and precipitation. Your ultimate packing list must have essentials suitable for all weather conditions.
As an Australian city, Melbourne can be hot in summer with occasional extremes; pack light clothing and a hat but don't forget a rain jacket as showers are common. Winters can get chilly; warm clothes and walking shoes are essential. Between seasons, layering is key—light outerwear over t-shirts does the trick!
Explanation on how weather impacts packing choices
Moving on from Melbourne's varied weather, it's clear that the climate greatly impacts your packing choices. Let me give you some travel advice: always check the forecast before you pack.
Australia uses Celsius, not Fahrenheit, so don't get caught out!
Based on the weather, consider what items you need. If rain is predicted, waterproof gear should top your packing list to help ensure a seamless trip. Sunny days call for sunscreen and hats. Packing cubes are my best travel buddy – trust me, they'll keep your suitcase organized no matter what you need to pack.
Never forget the importance of travel insurance too – it's an essential part of every journey.
Remember folks, smart preparation leads to boundless exploration!
Details on typical humidity levels and effects on packing
Humidity levels can really affect what's in your suitcase, so it's crucial to take this into account when preparing for your trip. If you're like me, you want the freedom to travel without worrying about the weather messing up your stuff.
So here's a tip: pack items that are humidity-resistant. I always include a water bottle for hydration and insect repellent in my carryon or backpack – Melbourne can be humid and bugs love that! Your passport is essential but remember, humidity can damage it. So keep it protected, maybe in a ziplock bag?
Don't forget your travel adaptor and portable charger power bank because no one wants their devices dying mid-adventure. Lastly, consider a daypack that handles humidity well – keeping its contents dry is key!
Clothing & Footwear Recommendations
As we delve into the topic of clothing and footwear recommendations, it's important to consider Melbourne's varied climate and how it influences our sartorial choices.
Year-round essentials include casual wear, swimwear, and a lightweight jacket – versatile pieces that can adapt to changing weather conditions.
Summer calls for breathable fabrics and sun protection such as hats while winter necessitates layers, warm coats, scarves, gloves; spring and autumn require medium-weight clothing that can be layered easily.
Shoes too should be selected based on the season and the activities planned – comfort is key!
Year-round essentials like casual wear, swimwear, lightweight jacket
You'll need to ensure your packing list includes year-round essentials like casual wear, swimwear, and a lightweight jacket for those unexpected chilly Melbourne evenings. Here's my three-item cheat sheet:
Sunscreen: Good quality sunscreen is non-negotiable. Melbourne's sun can be intense even in cooler months.
Swimwear and Flip Flops: Great for the beach and essential if you're planning on enjoying Melbourne's fantastic coastlines.
Reusable Water Bottle: Stay hydrated without adding to plastic waste.
Remember, the idea of quality travel is to pack less but smartly, making it easier to pack and unpack during your journey.
Include versatile pieces of clothing like casual wear that are comfortable yet chic – perfect for sightseeing or a laid-back evening at a local pub!
Summer (December-February) – breathable, light fabrics, hats, sun protection
Stepping away from the year-round essentials, let's dive into what you'll need for Melbourne's summer (December-February).
I can't stress enough the importance of packing breathable, light fabrics. Trust me, they're your best bet against the heat.
Don't forget to bring a couple of hats as well. Not only are they stylish, but they provide crucial protection from the sun.
It's also a good idea to bring along some quality sun protection products. You won't regret investing in a decent sunscreen – your skin will thank you later!
For those cooler evenings, pack a light jacket just in case.
Freedom is about being prepared without being burdened, so remember: it's not about how much stuff you bring, but bringing what truly matters!
Winter (June-August) – layers, warm coats, scarves, gloves
When it's winter in Melbourne from June to August, you're gonna need layers, warm coats, scarves, and gloves. Planning your trip to the land down under during this time means packing smartly.
You see, I always ensure my passport is valid for at least six more months for international travel; that's a crucial tip. Next up are the items in your suitcase. To save space, roll your clothes instead of folding them – it works wonders.
Important things to pack include thermal underwear and waterproof shoes; Melbourne winters can be wet! Be sure to bring a good book too – there's plenty of room in your bag once you've rolled those clothes right.
Spring & Autumn – medium-weight clothing that can be layered
After wrapping up warm for winter in Melbourne, let's shift our focus to the milder seasons of spring and autumn.
If you're planning a trip during these periods, you'll need to pack with Australia's unpredictable weather in mind. I recommend packing medium-weight clothing that can be layered, allowing you to adapt easily to temperature changes. You'll want versatile pieces such as lightweight jackets, long-sleeved tops, and comfortable pants.
It's also a good idea to include a raincoat or umbrella for those sudden showers! Remember, when creating your list of what to pack, consider the activities you're going to want to take part in – whether it's city sightseeing or countryside exploring.
So as we journey through Australia's seasons together, keep these essentials in mind for an unforgettable adventure!
Recommended shoes based on season and activities
You'll need to consider the right footwear for each season and activity in Melbourne.
If you're visiting during the wet season, you'll want to pack a decent pair of waterproof hiking shoes. They won't take up a lot of room and will be perfect for travelling around the soggy parts of Australia.
During drier months, breathable sneakers are ideal, offering comfort while exploring the city or hitting local trails.
For evenings out, ladies might also want to pack a stylish yet comfortable pair of flats or sandals, while men can opt for loafers or casual dress shoes.
Top Travel Electronics & Gadgets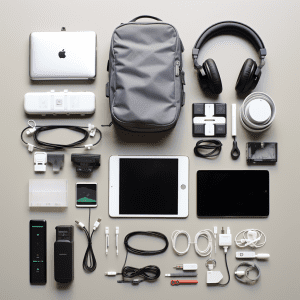 In today's digital age, we can't underestimate the importance of devices and accessories while travelling. They not only keep us connected but also make our journey more comfortable and convenient.
From a universal adapter for charging electronics to noise-cancelling headphones for those long flights and commutes, from an external battery pack and travel charger to keep your mobile devices powered up, to a reusable water bottle for hydration on-the-go – each item plays a critical role in ensuring a smooth travel experience.
Importance of devices and accessories while travelling
Don't forget your technology essentials; they can significantly enhance your travel experience in Melbourne. Whether it's a long flight or exploring the Great Barrier Reef, you'll need devices that keep you connected and entertained.
This article may contain some key items not to forget to bring along.
Portable Charger: For those busy days when I'm able to move around freely, a lifesaver for keeping gadgets juiced up.
Waterproof Phone Case: A must-have for beach days or snorkeling trips.
Noise-Cancelling Headphones: Perfect for long flights or simply zoning out while enjoying Melbourne's city life.
E-reader/Tablet: Ideal for downtime or while travelling between locations.
Camera/GoPro: To capture memories of stunning places like the Great Barrier Reef.
Universal adapter for charging electronics
Having covered the importance of bringing along the right devices and accessories on your trip, let's transition to a specific item that's a real game-changer: the universal adapter. Whether you're in Melbourne or somewhere in the middle of the outback, it ensures your electronics stay charged.
I can't stress enough how vital this is – from keeping your phone juiced up for those visa-related calls to using Google Maps when you're camping.
Another thing that's crucial to remember is water safety. Australia has some of the world's best tap water; it's safe to drink almost everywhere. But if jet lag hits and you find yourself parched at 3 AM, make sure you know whether your location's water is safe to drink before taking a gulp!
Noise-cancelling headphones for flights and commuting
They're a must-have for any traveler: noise-cancelling headphones make flights and commuting significantly more peaceful. I can't tell you how many times they've saved me from the stress of loud engines, chatter or crying babies. They are an investment in your mental well-being as much as they are in your auditory comfort.
The quietness envelops you, creating an intimate bubble where it's just you and whatever music, podcast or movie you choose to indulge.
You'll find yourself immersed in sound, able to appreciate every note or word without distractions.
It feels like freedom, granting you control over your environment even when circumstances would usually dictate otherwise.
Don't underestimate the power of peace during travel. Noise-cancelling headphones deliver that tranquility right into your ears.
External battery pack and travel charger for mobile devices
An external battery pack and travel charger are a traveler's best friends, ensuring your devices won't run out of juice when you're on the move. I can't tell you how many times these gadgets have been my lifeline during long flights or days spent exploring. They're compact, easy to carry, and incredibly useful for keeping phones, tablets, or cameras powered up.
My go-to recommendation is investing in a high-capacity power bank with multiple USB ports. This way, you're not just limited to charging one device at a time. Also, consider a charger that works in different countries; it's an absolute lifesaver for international trips.
Reusable water bottle for hydration on-the-go
It's crucial to pack a reusable water bottle for on-the-go hydration while travelling. Not only does it save me money, but it also reduces environmental waste. I never have to worry about finding a place to buy bottled water or the cost of it when I'm out exploring.
| Bottle Type | Pros | Cons |
| --- | --- | --- |
| Stainless Steel | Durable, maintains temperature | Can be heavy |
| Glass | No taste alteration, easy to clean | Breakable |
| Plastic | Lightweight, inexpensive | May leach chemicals if not BPA-free |
Ultimately, the choice depends on personal preference and travel needs. For me? I always go with a lightweight plastic bottle that fits comfortably in my bag – ready for any adventure!
Collapsible selfie stick/tripod for photography
You'll find a collapsible selfie stick or tripod comes in handy when you're trying to capture those perfect travel shots. I can't tell you how many times mine has saved the day, turning awkward arm-stretch photos into stunning panoramas and group selfies.
Here's why it's so useful:
Portability: They're light, compact, and easy to carry around. Mine even fits into my jacket pocket!
Versatility: Whether it's a sunset skyline or an impromptu group photo – this gadget has got you covered.
Stability: Say goodbye to shaky hands ruining your perfect shot.
Travel Documents, Currency & Cards
As we journey into the discussion on travel documents, currency, and cards, it's essential to be aware of the various types of documents such as passports, visas, and IDs that you'll need on your trip.
I can't stress enough how crucial it is to make digital copies of these documents as a backup – trust me, it's a lifesaver if anything gets lost or stolen!
Also, let's not forget about money matters: withdrawing local currency for smaller transactions and using cards for larger ones, plus having a backup debit or credit card handy just in case.
Types of documents like passport, visa, ID
Don't forget to pack important documents such as your passport, visa, and ID for your Melbourne holiday. They're not just slips of paper or cards; they're your ticket to adventure! Make sure you've got them stored safely but also within easy reach. I usually keep mine in a dedicated travel wallet that's thin enough to slip into my carry-on bag.
Always double-check the expiration dates on these documents too; nothing dampens wanderlust like being denied boarding because of an expired passport. Also, if you need a visa for Australia, get it sorted well before your departure date. It's all about minimizing stress so you can enjoy every moment of your journey down under.
Now let's crack open that suitcase and start packing!
Making digital copies as backup
It's a smart move to make digital copies of all your important documents, just in case you lose them or they get stolen during your travels.
I've found that using my phone to snap photos of my passport, driver's license, and credit cards is an easy way to keep backups handy.
Storing these images in a secure app or cloud-based service like Google Drive or Dropbox gives me peace of mind. If disaster strikes, I don't have to scramble for information – it's all right there on my device.
Plus, having these digital copies can speed up the process if I need replacements. It's one small step in preparation that grants me huge freedom during my adventures; no worrying about lost papers here!
Withdrawing local currency and usage of cards
You'll find that withdrawing local currency and understanding how to use your cards abroad are key elements of preparing for your journey. I've learned from personal experience that it's vital to do some research before you leave.
Not all banks have international partners, and fees can quickly add up if you're not careful. It's a good idea to notify your bank about your travel plans to avoid any unexpected blocks on your card due to suspicious overseas activity.
Look into the exchange rate so you know what kind of value you're getting when you withdraw cash. Also, consider using mobile payment apps; they can be lifesavers in places where cash is less common.
And remember, always keep a small amount of emergency cash tucked away just in case!
Having a backup debit/credit card
Having covered the importance of withdrawing local currency and using cards, let's delve into another critical aspect – having a backup debit/credit card.
Now, I can't stress enough how vital this is. Imagine being stranded in a foreign country with no access to money because you've lost your primary card or it's been compromised. It sounds like a nightmare, right?
That's why I always tuck away an emergency credit or debit card somewhere safe in my luggage. This way, if my primary card fails me for any reason, I've got a safety net to fall back on.
Health & Medical Recommendations
As we dive into our discussion on health and medical recommendations for travel, let's concentrate on some of the key factors that ensure a safe and comfortable journey.
I'll share essential tips such as:
Keeping prescription medications in your carry-on bag
Packing basic first-aid items like bandages and pain relief
Carrying extra eyeglasses or contacts if needed
We'll also explore ways to combat jet lag through:
Sleep regulation
Hydration
Light exercise
Additionally, we'll discuss the crucial role of travel insurance in safeguarding against unforeseen circumstances.
Prescription medications in carry-on bag
Don't forget to pack your prescription medications in your carry-on bag when preparing for your Melbourne holiday. It's crucial, not just for convenience but also for safety reasons. In the rare event that your checked luggage gets lost, you won't have to worry about missing any important doses.
Here's a simple table breaking down what you need:
| Item | Why it's needed | Packing tip |
| --- | --- | --- |
| Prescription Medications | Necessary for maintaining health during travel | Keep in original containers with clear labels |
| Doctor's note or prescription | Helpful if questioned by security or customs officials | Carry a digital copy as well |
| Pill organizer | Convenient way of managing daily medication dosage | Use this after passing airport security |
With these tips, I guarantee you'll have peace of mind throughout your trip.
Basic first-aid items like bandages, pain relief
You'll also need to consider packing basic first-aid items such as bandages and pain relief for those unexpected bumps and headaches. Trust me, nothing spoils a trip faster than a throbbing headache or an annoying blister without the means to treat it. It's vital to be prepared for anything, especially when you're exploring the vibrant streets of Melbourne.
Include essential items like antiseptic wipes, adhesive tape, tweezers, and safety pins in your kit. Don't forget medication for common ailments like fever, colds, upset stomachs, and allergies as well. While Melbourne has numerous pharmacies available, having these essentials at hand can save you time and discomfort.
Remember that carrying a small first-aid kit doesn't just safeguard your health – it gives you the freedom to fully enjoy your holiday with peace of mind.
Extra eyeglasses/contacts if required
Wrapping up on first-aid essentials, it's easy to overlook another crucial item – extra eyeglasses or contacts if you need them.
Now, I can't stress this enough: don't let poor vision ruin your Melbourne adventure! Trust me, the last thing you want is to miss out on every stunning detail of the city's vibrant street art or struggle to appreciate the breathtaking views from Eureka Skydeck because of blurry vision.
So here's my tip: pack an extra pair of glasses or contact lenses in your carry-on bag. It may seem like a small thing, but it'll make a world of difference.
Jet lag tips – sleep, hydration, light exercise
Jet lag's a real drag, but with proper sleep, hydration, and light exercise, it can be managed effectively. I've found that adjusting to the new time zone before you travel can make a difference. If I'm heading east, I try to go to bed earlier for a few days before my trip. If west is where I'm headed, staying up late helps me acclimate.
Hydration plays an important role too; flying dehydrates you so drinking lots of water keeps those jet lag symptoms at bay. Avoiding alcohol helps as well because it further dehydrates you.
Importance of travel insurance
Don't overlook the importance of travel insurance, as it's a safety net that can cover unexpected expenses or emergencies during your trip. It gives me peace of mind knowing I'm protected against unforeseen troubles like flight cancellations, lost luggage, or medical emergencies.
Having been caught out before with a cancelled flight and no compensation, I now view travel insurance as an essential part of my packing list.
I make sure to read the fine print carefully, ensuring the policy covers all my planned activities and destinations. With my trusty coverage tucked in my back pocket, I feel free to explore Melbourne's exciting attractions without worry.
So go ahead! Embrace your wanderlust but remember – always pack sensibly and never forget your travel insurance.
Efficient Packing Tips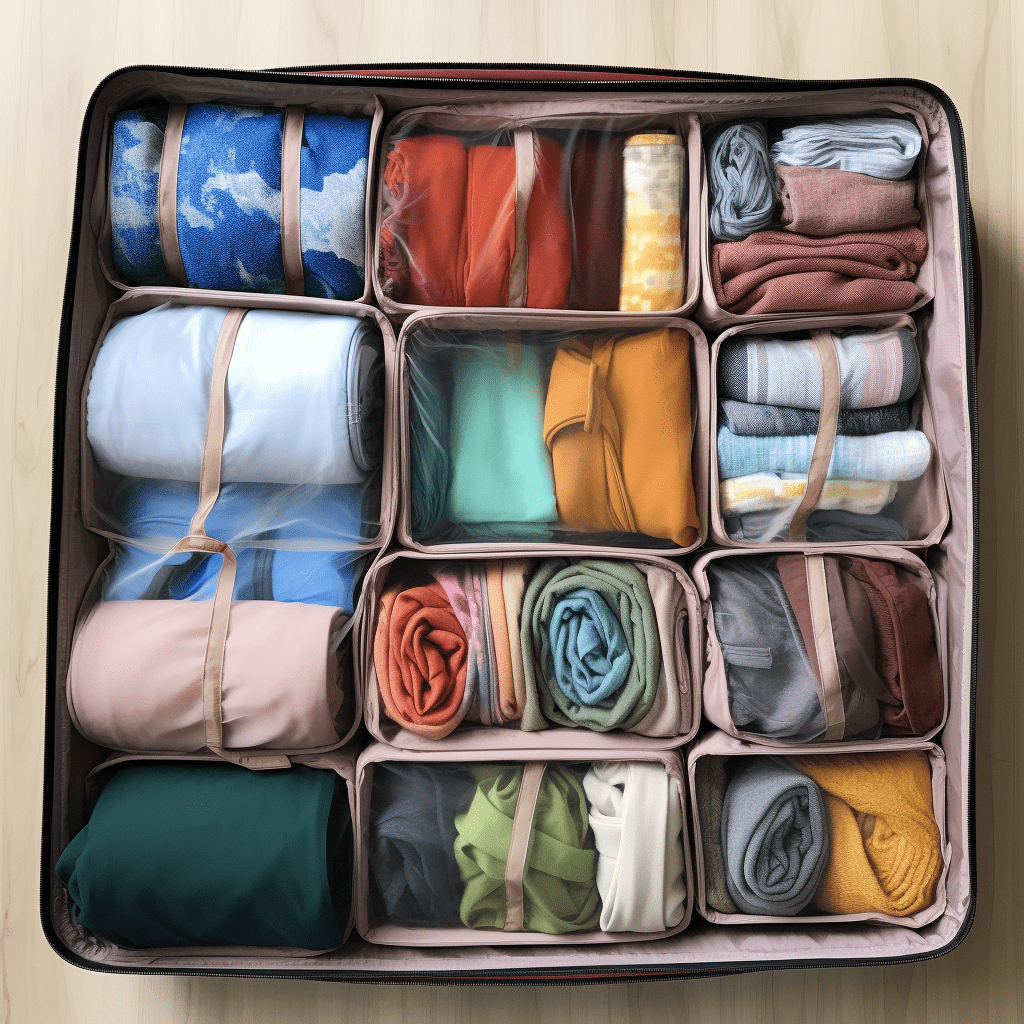 As an avid traveler, I've discovered that efficient packing can make or break a trip. From using packing cubes and folders to keep my items neatly organized, to carrying a collapsible day bag for spontaneous outings – every bit of planning counts.
I'm also particular about securing my luggage with TSA-approved locks and minimizing liquids to meet carry-on restrictions, not forgetting the importance of choosing the right luggage and gear for each unique journey.
Use of packing cubes/folders to organize items
You'll find packing cubes and folders incredibly useful in keeping your suitcase organized during your trip to Melbourne. They're a game changer, I can't travel without them now. They keep my clothes neat and wrinkle-free, making unpacking so much easier. Plus, it's a breeze to find exactly what I need without rummaging through my entire suitcase.
But that's not all! Packing cubes are great for maximizing space too. By rolling or folding clothes in the cubes, I've found I can fit more in my bag than ever before. And let's not forget about those smaller items – socks, underwear, chargers; they all have their own cube now!
Using these tools has truly revolutionized my packing routine and given me the freedom to enjoy my travels without worrying about an unruly suitcase.
Collapsible day bag for outings
It's a smart idea to pack a collapsible day bag for your outings, especially if you plan on doing some shopping or carrying items like water bottles, maps, and snacks. This lightweight accessory can be a lifesaver when you're out exploring Melbourne's vibrant city streets.
| Item | Reason to Pack | Additional Tips |
| --- | --- | --- |
| Collapsible Day Bag | Versatile & Space Saving | Choose one with multiple compartments |
| Water Bottle | Stay Hydrated | Preferably one that keeps drinks cool |
| Map/Guidebook | Navigate the City | Find one with key attractions highlighted |
| Snacks | Energy Boost | Opt for healthy choices like nuts and fruit |
| Masks and Sanitizer | Health & Safety Precaution | Always handy in present times |
TSA-approved locks for luggage security
We're going to talk about the importance of securing your luggage with TSA-approved locks during your travels. It's a simple step that can provide peace of mind as you journey around Melbourne or anywhere else in the world.
Here are a few reasons why it's crucial:
Peace of Mind: Knowing your belongings are secured, you'll have less reason to worry and more capacity to enjoy your adventure.
Protection from Theft: A robust lock is a deterrent for potential thieves.
Compliance with Security Standards: TSA-approved locks allow security agents to access your luggage if necessary without damaging it.
Investing in these locks isn't just smart; it's an investment in stress-free travel. So go ahead, explore freely and securely!
Minimising liquids to meet carry-on restrictions
Moving from the security of your luggage, let's dive into the restrictions surrounding liquids in carry-on bags. We all know how much of a hassle it can be to find out at the last minute that our favourite perfume or aftershave exceeds the allowed limit! It's crucial to minimise and correctly pack these items to pass through security smoothly.
| Item Type | Max Volume Per Item (ml) | Packing Tips |
| --- | --- | --- |
| Perfume/Aftershave | 100 | Use travel-size bottles |
| Shampoo/Conditioner | 100 | Opt for solid bars |
| Lotions/Creams | 100 | Decant into smaller containers |
Choosing suitable luggage and gear for trip
Choosing the right luggage and gear for your trip can make all the difference in your travel experience. It's not just about what you pack, but how you pack it. Here are three key points to consider:
Size Matters: Make sure your luggage is the right size for your trip duration and activities. You don't want a giant suitcase for a weekend getaway.
Quality Counts: Invest in durable luggage with sturdy wheels and handles. It'll stand up to rough handling at airports, saving you from potential disasters.
Organization is Key: Use packing cubes or compartments to keep items organized and easy to find.
Recommendations for Popular Sights
As we delve into the heart of Melbourne's vibrant sights, it's crucial to pack items fit for each unique destination.
Don't forget your walking shoes, hat and sunscreen when planning a stroll around the Royal Botanic Gardens.
An umbrella and jacket are must-haves for exploring the bustling Queen Victoria Market.
For art enthusiasts visiting the National Gallery of Victoria, a camera is essential.
Sport fans can show their spirit at MCG Stadium with a team jumper.
And remember – comfort is key when shopping on Chapel Street, so ensure you've got comfy shoes!
Walking shoes, hat, sunscreen for Royal Botanic Gardens
You'll need comfortable walking shoes, a hat, and sunscreen for your visit to the Royal Botanic Gardens. I can't stress enough how essential these items are.
The gardens boast over 8,500 different plant species spread across its expansive 94 acres and trust me; you'll want to explore every inch.
Here's my top three advice for a great experience:
Start early: Mornings are less crowded, plus you get to witness the serene beauty of dawn.
Follow the guided tours: They're insightful and free! You'll learn heaps about Australia's unique flora.
Pack a picnic: There's nothing like enjoying a meal amidst nature.
Umbrella, jacket for Queen Victoria Market
After you've had your fill of the Royal Botanic Gardens, it's time to gear up for a shopping spree at Queen Victoria Market. Known for its vibrant atmosphere and countless stalls, you'll want two things: an umbrella and a jacket. Melbourne weather can be unpredictable, so even if the sky looks clear in the morning, you might need to shield yourself from unexpected showers by noon.
Here's a quick checklist to help:
| Item | Why You Need It | Additional Tips |
| --- | --- | --- |
| Umbrella | For those sudden rain showers | Opt for a compact one that easily fits in your bag |
| Jacket | To keep warm when temperature drops | Choose something light yet cozy |
Remember: being prepared means more freedom to explore without worries!
Camera for National Gallery of Victoria
Don't forget to charge up your camera for the next stop – the National Gallery of Victoria!
This place isn't just another art gallery, it's a haven for creativity and inspiration. From towering sculptures to intricate paintings, every exhibit is a testament to human ingenuity.
I can't help but feel a jolt of excitement as I wander through its halls, my camera in hand, ready to capture moments that'll last forever.
And let's not forget about the stained glass ceiling at The Great Hall – it's a sight so beautiful that no picture could do it justice. But hey, doesn't mean we can't try!
So pack light but pack right; remember your spare batteries or charger because you wouldn't want your camera dying on you amidst all this magnificence!
Team jumper when watching sports at MCG Stadium
Make sure to bring your team jumper when heading out to enjoy some sports at the MCG Stadium; it's always more fun to show off your colors! As a sports lover, I can't emphasize enough how much this small detail enhances my experience. The sensation of unity, camaraderie and rivalry in the air is palpable.
Here are my top three picks for must-see matches:
| Sport | Event | Month |
| --- | --- | --- |
| Cricket | Boxing Day Test Match | December |
| Australian Rules Football | AFL Grand Final | September |
| Rugby League | State of Origin Series | June-July |
Comfortable shoes for shopping on Chapel Street
You'll need comfortable shoes for a shopping spree on Chapel Street, as there's so much to see and explore. This iconic location is the heart of Melbourne's fashion scene, bustling with unique boutiques, eateries, and colorful street art. As I stroll leisurely along the charming streetscape, I can't help but get swept up in its vibrant energy.
The thrill of discovery: Every store has its own charm and surprises.
Creative inspiration: The eclectic mix of styles sparks my imagination.
Comfort is key: For such an adventure, having comfy footwear makes all the difference.
Savoring local flavors: The foodie within me rejoices at the diverse cuisine options.
Feeling free-spirited: With no agenda other than exploration, I am truly free.
Additional Packing Considerations
As we delve further into packing considerations for your Melbourne adventure, let's reflect on some specific needs and preferences.
For those traveling with young ones, items like diapers and toys are essential to keep in mind.
Plus-size travelers should consider comfort-enhancing choices such as breathable fabrics and comfortable footwear.
Business or formal attire might be a necessity for corporate travelers or those attending special events.
Items for kids and babies like diapers, toys
Don't forget to pack all the essentials for your little ones, such as diapers and their favorite toys, to ensure they're comfortable during your Melbourne holiday. As a parent, I know how crucial it is to keep our kids happy and contented during trips.
Here's my go-to list:
Diapers: Pack more than you think you'll need; they can double up as emergency spill cleaners!
Toys: Bring their favorites but nothing too bulky or easily lost.
Snacks: Healthy, travel-friendly snacks can be lifesavers during long journeys.
Clothing: Pack extra sets of clothes in case of accidents or sudden weather changes.
Plus-size travellers – breathable fabrics, shoe comfort
For plus-size travelers, it's important to pack comfortable shoes and clothing made from breathable fabrics to ensure comfort during your trip. Exploring all that Melbourne has to offer means plenty of walking, so you'll need footwear that can keep up with you. As for clothing, choose items in light materials like cotton or linen – they're not just stylish but also great for the city's climate.
I've put together a quick guide below:
| | Essentials | Why |
| --- | --- | --- |
| 1 | Comfortable Shoes | Perfect for long walks |
| 2 | Breathable Clothing | Keeps you cool while exploring |
| 3 | Versatile Accessories | Adds style without compromising comfort |
Business and formal attire if needed
You'll want to include business and formal attire in your luggage if you're anticipating any professional or upscale events during your stay.
I've learned that Melbourne's vibrant nightlife and sophisticated dining scene often call for a smart-casual dress code. A well-tailored suit, crisp shirt, or elegant dress can make all the difference when attending an important meeting or savoring a gourmet meal at one of the city's many high-end restaurants.
Don't forget the accessories too! A pair of polished shoes, tasteful jewelry, or a sleek tie can add that finishing touch to your outfit. But remember, comfort is key. So choose items that not only look good but also feel great to wear.
After all, it's about enjoying every moment of your Melbourne holiday with absolute freedom and style.
Conclusion
In wrapping up our discussion, let's revisit some key points.
We've talked about the importance of packing light and choosing seasonal clothing, as well as including useful gadgets to enhance your travel experience.
I'm confident that these tips will not only help you pack smarter for your Melbourne adventure but also pave the way for an amazing and unforgettable trip.
Summary of key tips like seasonal clothing, gadgets, packing light
Packing light is a game-changer when planning your Melbourne trip. Remembering essential gadgets can make all the difference. I've learned that by choosing multi-functional clothes in neutral shades, I can mix and match outfits to my heart's content.
I always remember to pack my tech essentials too – my smartphone, charger, camera, and don't forget those international adapters!
For Melbourne's unpredictable weather, layering pieces are key. A lightweight waterproof jacket has been my saving grace during unexpected showers. Depending on the season, sunblock or a warm scarf might become your best friend.
Lastly, I never underestimate the importance of packing health essentials like medications and sanitizers. It's truly about smart packing rather than heavy packing – because freedom lies in travelling light!
Final encouragement for having an amazing experience
Let's not forget, it's the experiences and adventures that'll make your journey truly memorable! No matter how well you pack, what'll really count are the memories created exploring Melbourne's vibrant culture, stunning landscapes, and friendly community.
Here are some final tips to help you have an unforgettable trip:
Stay flexible: Travelling is all about freedom. Don't over-schedule yourself; leave room for spontaneity.
Meet locals: They're a great source of insider information on hidden gems.
Take plenty of photos: They're the best souvenirs!
Try new things: Whether it's local cuisine or a daring activity, step out of your comfort zone.
Frequently Asked Questions
What Are Some Local Customs or Etiquette That I Should Be Aware of While Visiting Melbourne?
In Melbourne, it's 'when in Rome' time. Always stand on the left on escalators, tip around 10% in restaurants, and never expect a pub to shout you a round. It's just Aussie etiquette!
Absolutely! I'd recommend 'PTV' for public transport info and 'Culture Walks' for self-guided tours. Also, 'Melbourne Bars and Pubs' app is great for finding local watering holes. They'll make navigating Melbourne a breeze!
What Are Some of Melbourne's Local Delicacies That I Should Try and Can I Pack Any Food Items for It?
Sure, you can't miss Melbourne's coffee culture, and local dishes like chicken parma. However, packing food isn't recommended due to Australia's strict biosecurity laws. They're real sticklers for keeping their ecosystem pristine!
Are There Any Specific Safety Concerns I Should Be Aware of While Traveling in Melbourne?
In my travels in Melbourne, I've found it to be quite safe. However, like any city, it's important to stay vigilant, especially at night. Always keep your belongings close and be aware of your surroundings.
Can You Suggest Any Unique or Lesser-Known Attractions in Melbourne That Should Be Included in My Itinerary?
Sure, I'd recommend visiting the lesser-known Heide Museum of Modern Art. It's a gem filled with stunning artworks. Also, try exploring Melbourne's laneways for unique street art and cozy coffee shops.
Conclusion
So, that's it! You're all set for your Melbourne adventure. Did you know around 6.7 million visitors come to this city each year? That's like the entire population of Arizona!
With your bags packed efficiently and a Mega Style Apartment ready to welcome you, get ready to add your unique story to this bustling metropolis. Trust me, it's going to be an unforgettable journey!